Its an interactive murder mystery that is a blast. Great food, Great fun where you'll enjoy doing the killing


Had so much fun at the Hawaii Five Uh-Oh mystery dinner last night. Can't remember the last time I laughed so hard. Looking forward to an encore visit with friends.
Jerry Shepard
Are you looking for a Fun Event this weekend?
Have dinner at the Library Restaurant & Pub. That's right, dinner and a show to boot.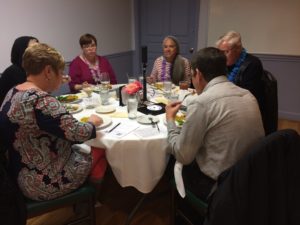 5 Stars I live close by and really appreciate a nice restaurant in the area. My friend and I frequent The Library several times a year, the experience is always good, we enjoy the atmosphere and the food is always delicious. Teresa Wilson
Each Mystery Café dinner party is about a fictitious group of people present for some reason or another to have dinner when murder interrupts their proceedings. You the arriving audience are this group of people.
For instance; in the story, Hawaii 5 Uh Oh, you get to pretend to be living in Hawaii. In like manner with Pirates of the Chattahoochee you will pretend to be aboard a cruise ship as guests or crew or the pirates who boarded the ship.
In addition, you can volunteer to play characters with actual speaking parts in the story. As a volunteer, all you really must do is stand up and read your lines from the cue card we give you.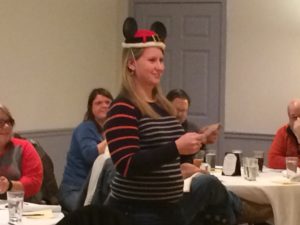 But, you are welcomed to ham up the part and just have fun with it. Of course, an audience member might find themselves to be the murderer or the victim.
Furthermore you will have two very funny performers playing the main characters in the story to help your minor characters have fun!.
We have some of the best performers in Indianapolis ready to have fun with you this weekend. They stand ready to interrogate you over your salad.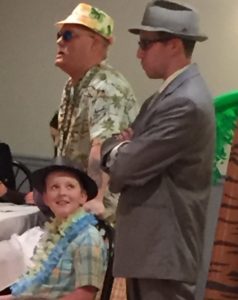 3rd year in a row to take my son for his birthday! It never disappoints, good food Great entertainment! We had a Wonderful time!
Lenell Brown Cheek
 It is a party game.
You will be challenged to guess "whodunit." Everyone gets a Clue Sheet to jot down suspects and write down clues as they happen. Coupled with what you observed you may realize you are the killer! We do not let the guest know they are the killer till they are handed a new cue card with their confession on it.
A prize called the Super Sleuth goes to the one who best guesses "whodunit." Not to mention the most coveted prize of all of Indianapolis, the Hammy which goes to our best audience volunteer.  You may not have the opportunity to win an Oscar but here in Indianapolis you may win the Hammy.
The show is comedic, likewise so is the murder. We won't gross you out and ruin your dinner.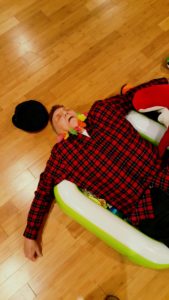 We had a blast!! The actors were hilarious, food great! So fun!
Diane Roembke Bohannon
 We are now at the Library Restaurant & Pub.
 In December, we were saddened to learn that our old location the Milano Inn was closing. In the light of this, we packed up the props, costumes and performers and moved. Together with the Library Restaurant & Pub we reopened our mystery dinner party in a new location. Whether you liked or disliked the food at our old location I think you should come out and decide for yourself how the food is at the Library Restaurant. The Library Restaurant is like the Milano Inn as it is family owed and has its own free parking lot.
The first murder mystery dinner party in Indianapolis" occurred in 1992.
That is when the Mystery Café started performing its Murder Mystery Comedy Dinner Party here in Indianapolis. In 1992 the cold war had ended and Circle Center Mall was just a hole in the ground. What better time to start having fun here in Indianapolis?
Our first show was "Let's Kill the Boss." We are celebrating our 25th year here in Indianapolis. So, that is a lot of bodies, not to mention shows since 1992. Again, if you do the math where we do around a 100 shows a year that is 2500 shows just here in Indy. Since Mystery Café is the oldest Murder Mystery show in the country doing more math means over 125,000 fun shows across the good ol' USA.
Forget the Date Bring an Alibi
Comical Report on the Mystery Café FunReportontheCafe.4