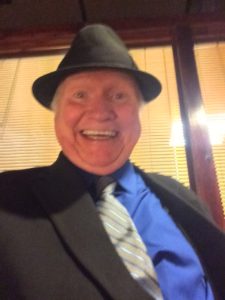 Eric Michael Gillett "Joe Strange is hilarious…flat-out hilarious! He brings all of himself to everything he does and "Joe's Comedy Mystery Shows" have to be a must-see."
– Eric Michael Gillett, former Ringmaster/RBBBC-Red Unit/1987-1997. EMGCollective, a Studio for Voice/Acting/Corporate Speech in NYC.
I'll go see anything Joe Strange is involved with– the man is funny, big hearted, and it is always a joy to watch him perform! Run–Don't walk!–to the Comedy Mystery Dinner Theatre!
– Jay Stewart
RBB&B Circus Red Unit Clown Alley 90/91 & 2000-03 (Boss Clown), Kinoshita Circus Clown– Tokyo/ Osaka, Japan 1999, Founder/Boss Clown– Seaside Clowns, 2003-06
Current Supervising Performer: Big Apple Circus Clown Care Unit, Boston Children's Hospital
If you're going out for an evening of murder, mystery, and fun, who would be better to be your tour guide than a man named Joe Strange?! Joe is a creative dynamo who wants nothing more than for his audiences to have a wonderful time and be truly entertained. No real crimes happen at Joe's Mystery Cafe but be forewarned, you just might laugh yourself to death!"
(Cue sinister laughter!)
(His real name!)
– Steve Marshall
Ambassador of Magic from the USA, Tokyo, Japan, Ringling Bros. Circus clown 1984- 1988. See him on Penn & Teller's TV show "FOOL US" this fall.
Joe is one of those rare people who can make you laugh without him saying a word.
– John Sheese, the first clown Joe worked with
The Success of an event lies in the entertainment selected.
Whether you are a group or a Company looking for a private show.
Contact Leslie at Leslie@TheMysteryCafeIndy.com
or 317-937-9689 for one of our "Murder To Go" shows.