Frequently asked questions about the Mystery Café
Questions answered below are:
Why?
What do you eat?
What do you wear?
How involved?
How get tickets?
Where located?
What are the times?
How about kids?
The Price?
Off site private show/parties?
Why choose Mystery Café?
All work and no play make Jack & Jill dull. It is FUN!!!
Thank YOU very much. We had a blast!
Kim
Good Food
Great entertainment ~ We enjoyed it very much and the food was delicious! Thank you all!
Jan Worth and Friends!
What do I eat?
Soup or Salad
Your choice of a House Side Salad or Chef's Soup Du Jour served with our Fresh French Baguette.
The Main Event
Teriyaki Chicken with Pineapple, Fresh Green Beans & Rice Pilaf
Dessert
Classic Cheesecake ~ A local favorite made in-house.
The dinner is Gluten-free. A vegetarian dinner is available upon request and any dietary restrictions can be accommodated. Please make sure to let your wait staff know upon your arrival and when placing your drink order.
What do I wear?
Dress is casual, but nice. Sometimes we have what we call the optional "Fun Dress" where you arrive in costume to complement the theme of the evening's mystery. So really the dress code is you must wear clothes, there are just some mysteries we don't want solved.
Will I be involved?
Audience participation is the driving force behind the Mystery Café. However, participation is strictly voluntary. We look for 15-20 volunteers to play minor characters in our show with speaking parts. All you have to do is stand up at your dinner table and read you lines. Of course we encourage you to "ham" it up. Remember, we can't do the show without you!!!
Loved it had a great time I even won the Golden Hammy first time the President character every won this.
Antonio Brown
Where do I get tickets?
You can Buy Tickets to Fun or call our Box Office at (317) 684-0668. If you have more than 20, call our Group/Private Sales Line at (317) 937-9689, and we'll hook you up with our group rate discount!
Where are we located?
Our public performances are located at The Library Restaurant & Pub at 2610 S Lynhurst Dr. on Saturday evenings.
What are the times of the shows?
We seat at 7pm and begin the show at 7:30. The shows take place in the upstairs banquet rooms of the Library Restaurant & Pub. The restaurant does not have an elevator so we hope you can do stairs.
What about Kids?
Yes bring your kids with you. There is no nudity or profanity in our shows. The innuendoes are like the jokes in the Shrek movies. The actors loved to have kids play parts. The owner is a former Circus Clown so ask him to juggle for the kids. The Kids price is $25 for 13 and younger. Have a real young one? As long as the child does not order a dinner but eats off Mom or Dad's plate no ticket is needed. We had a two year old play a part because he had to say 3 words. "I am Root."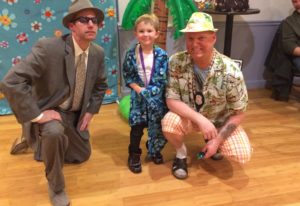 How much are the tickets?
Cheap, but the value is priceless! The ticket price is $55 per person, and includes the dinner and the show. All drinks (except water) are extra and are tallied on a separate bar bill. At the public shows, the gratuity is not included. It is suggested that you leave on the table a minimum of $3 gratuity per person for your server at the end of the evening. For groups of 20 or more, please call (317) 937-9689 for special group discounts.
Do you offer onsite or offsite parties??
Absolutely! Call our Group/Private Sales Line at (317) 937-9689. Find out more on our GROUPS & PRIVATE EVENTS page.
Hi there…
We had a terrific time, by the way!! We will definitely recommend the experience to others!
Laura Eisenbarth
Sales Assistant-TCU Investment Services