The Cast of Death By Disco
Justin plays John Revolta and Wolfman Slick the Disco Dick.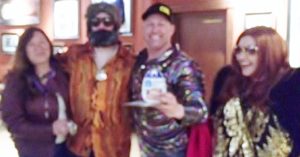 DEATH BY DISCO
Welcome back to the late 1970's When a craze called Disco was king. The King of Disco (John Revolta) has created a Club for the royalty of the disco dancers. This will be its grand opening. However before the night is over someone will see to it that John is greased. The case will come under the jurisdiction of Wolfman Slick the Disco dick.
Death by Disco is a show that we do only for Private Events. If your group wants to go to the Disco for your event then let us know. 317 684-0668
Jennifer plays one of the best characters in the 25 years of Mystery Café. Dingy Delerium is John Revolta's dance partner.
Her second character is police women Paddy Wagons.